Library Partnerships in International Liberal Arts Education: Building Relationships Across Cultural and Institutional Lines
A book developed in collaboration between AMICAL and ACRL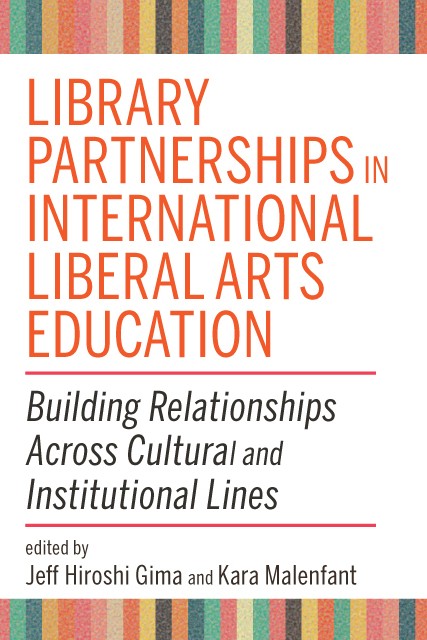 Library Partnerships in International Liberal Arts Education: Building Relationships Across Cultural and Institutional Lines is a collaborative project from ACRL and AMICAL, reporting on innovative library partnerships that cut across lines of cultural and institutional boundaries, but also across professional boundaries, at international liberal arts institutions. Edited by Jeff Hiroshi Gima (AMICAL Consortium Director) and Kara Malenfant (Senior Strategist for Special Initiatives at ACRL), the book includes 10 chapters authored by 16 librarians, faculty members and instructional technologists from 6 AMICAL member institutions in as many different countries. The book is available for purchase in the ALA Store in print or ebook format.
Overview of the book
Internationalization continues to gain traction among US colleges and universities as overseas branch campuses now dot the globe alongside an established and growing group of independent American-modeled institutions of higher education, some founded as early as the 19th century. As higher education and the academic library environment evolves, librarians at many of these independent institutions are identifying priorities that include not only collaborating with educational stakeholders, enhancing teaching and learning, and connecting to the institution's mission, but also positioning themselves as active and creative partners in increasingly digital learning and scholarship. An international environment is both a challenge and an opportunity for these priorities.
Library Partnerships in International Liberal Arts Education explores these challenges and opportunities through perspectives that are inherently international and intercultural because of the authors' own backgrounds, and in particular because of their institutional environments. The authors are librarians, faculty, and technologists at institutions that belong to the AMICAL Consortium, a consortium of American-modeled international liberal arts institutions working together on common goals for libraries, technology, and learning. The chapters describe library-anchored collaborations that demonstrate struggles, but also successes and rich possibilities, in these thoroughly international—and increasingly digital—liberal arts institutions. They provide cumulative knowledge, reference points, and aspirational targets for planning future library-related collaborations in similar environments.
While a fascinating look at new collaborative roles and digitally focused priority areas for academic librarians as they are being addressed within AMICAL's membership, the compelling ideas arising from these intercultural contexts have broad application and introduce opportunities to engage in international collaboration with the members of this unique consortium.
Contents
Foreword


Celeste Schenck
President, The American University of Paris; Co-founder, AMICAL Consortium; Former President, Association of American International Colleges and Universities (AAICU)

Introduction


Jeff Hiroshi Gima, AMICAL Consortium Director, The American University of Paris
Kara Malenfant, Association of College and Research Libraries
Origins of the project
See the original
call for proposed contributions
for more information about how the project started.