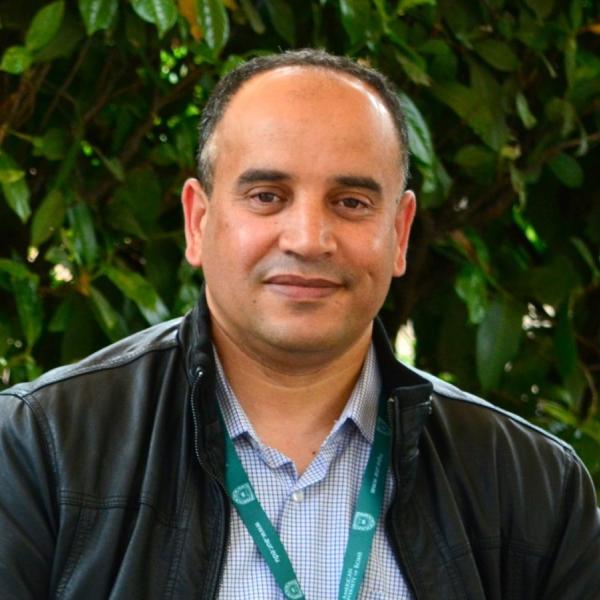 Aziz El Hassani
EFL Lecturer
Al Akhawayn University in Ifrane
Aziz El Hassani is a lecturer at the English Language Center of Al Akhawayn University in Ifrane (AUI). He received his doctorate degree ('cum laude') in 2020, with much of his research focusing on the role that information and digital literacy skills play in higher education and students' success, using ACRL's Framework threshold concepts as a guide. He is a certified digital instructor through the Online Learning Consortium (OLC) and Quality Matters (QM). Aziz has extensive experience integrating information digital/literacy skills, ACRL information literacy competency standards, and technology into the learning experiences of students. He enjoys working collaboratively with others to integrate ACRL frameworks and technology into education and spearhead efforts to enhance students' learning success and skills—and empower them [students] to be life-long learners.
During the fall semester 2015, Aziz was invited as an International Visiting Scholar (IVS) to Roger Williams University in Rhode Island, USA, where he engaged in observing, consulting, training, and demonstrating special skills through collaboration with RWU' library and Feinstein College of Arts and Science Faculty and staff; and played a role in other related events sponsored by the Spiegle Center For Global and International Programs during his stay at Roger Williams University.
In the Spring of 2018, Aziz attended the Harvard Graduate School of Education's professional learning program Library Leadership in a Digital Age. He has certification from several international professional organizations and institutions, including Library Juice Academy, Soliya Connect Program, Global Liberal Arts Alliance (GLCA), Online Learning Consortium (OLC).
He has received myriad research grants and scholarships, among others, from leading institutions such as the European Union, AMICAL, Roger Williams University, The European Commission (EC).
Recent Publications:

Kanižaj, I., Friesem, Y., EL Hassani, A., Kaur, K., Lee, A. Y. L., Piotto, L., Rubin, J. S., Soares, I. de O., Spikes, M., & Stöpel, M. (2022). : Fighting Infodemic. In The Routledge Handbook of Media Education Futures Post-Pandemic. Routledge. https://www.taylorfrancis.com/chapters/edit/10.4324/9781003283737-18/intercultural-dialogue- igor-kani%C5%BEaj-yonty-friesem-aziz-el-hassani-kanchan-kaur-alice-lee-livia-piotto-jonah- rubin-ismar-de-oliveira-soares-michael-spikes-michael-st%C3%B6pel
Stöpel, M, El Hassani, A. & Livia Piotto (2022). Librarians and information literacy instruction in Morocco, Italy, and France during the pandemic: Reflecting on challenges and future opportunities. Publication by the Publishers in the work The Routledge Handbook of Media Education Futures Post-Pandemic (HB ISBN:9781032225036). https://www.taylorfrancis.com/chapters/edit/10.4324/9781003283737-14/librarians- information-literacy-instruction-morocco-italy-france-pandemic-michael-st%C3%B6pel- aziz-el-hassani-livia-piotto
El Hassani, A. (2015). The Role of Information Literacy in Higher Education: An Initiative at Al Akhawayn University in Morocco. Journal of Information Literacy, 7, 32–37. https://doi.org/10.15845/noril.v7i1.229
El Hassani, A. (2020). Embedding Information Literacy into a Humanities Course Using the ACRL Framework as a Guide A Faculty-Librarian Collaboration Model Background and Context of this Study (pp. 33–42). https://www.alastore.ala.org/content/library-partnerships-international-liberal-arts-education- building-relationships-across
Love, P., & El Hassani, A. (2020). Revising the Syllabus Integrating Information Literacy into a General Education History Course at Al Akhawayn University in Ifrane, Morocco (pp. 37–43). https://www.alastore.ala.org/content/faculty-librarian-collaborations-integrating-information- literacy-framework-disciplinary-0

El Hassani, A. (2020). Integrating Information Literacy in Higher Education_ A case study of Faculty-Librarian Collaboration at Al Akhawayn University [Doctoral Dissertation, Sidi Mohamed Ben Abdellah University(USMBA)]. Ph.D. dissertation (full-text pdf): http://search.shamaa.org/PDF/Dissertation/MrSMBAU/…
Personal pronouns: He
Interests: Digital Literacy, Information Literacy, Higher Education, Digital Literacy, English Language Teaching, ACRL Framework
Contact
Sessions
Event attendance