Engage students in creative multimedia content production
A 2-day International Workshop sponsored by AMICAL. Organized by The American University in Kosovo in collaboration with The American University in Cairo.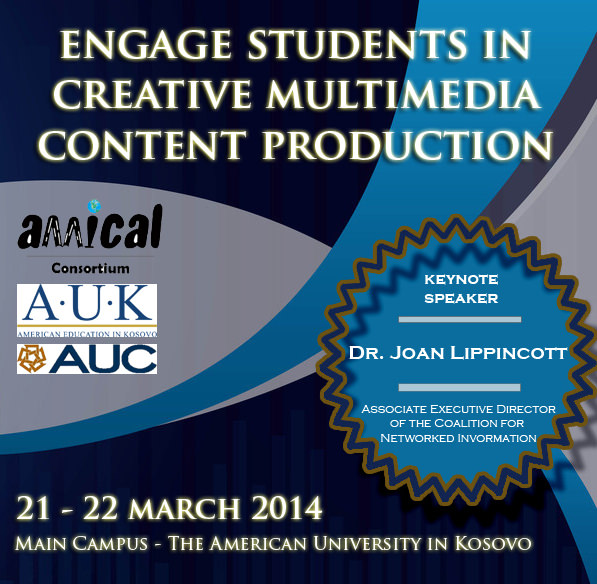 Student-centered teaching and learning is widely accepted as the most effective pedagogy to be used in Higher Education and has gained tremendous popularity over conventional lecture-based teaching. Similarly, the rapid development of educational technology has enabled students to engage with learning in a variety of new and creative ways which enable students to acquire and demonstrate a variety of new skills in the process of learning. Producing multimedia assignments is one such area where students can enhance their own individual and group learning experiences by producing creatively new content in their courses. Given the innovative nature of these developments it has also necessitated that faculty collaborate closely with IT colleagues and students in order to explore and implement exciting new educational technologies in the learning process. It is expected that the 2-day workshop explore these issues further and outline the best practice, as well as provide hands on training to faculty who wish to use such forms of assessment.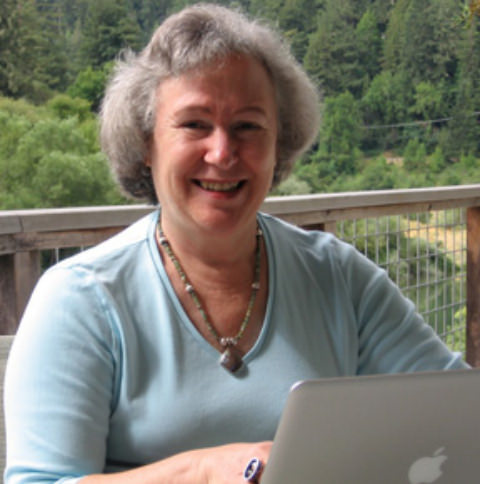 Keynote Speaker
Dr. Joan Lippincott, Associate Executive Director of the Coalition for Networked Information (CNI)
Related writings:
Who should attend?
Faculty and IT Instructional Professionals
This workshop welcomes faculty and IT instructional professionals who have already made use of such methods of assessment and wish to present their work under one of the available slots in the provisional program OR those who wish to attend and gain experience. If applying for participation please use the application form.
Ideal applicants should be teams engaged in, or willing to engage in, a group multimedia project, and preferably an "Authentic Project". As an example: at the American University in Kosovo, students of the Environmental Policy courses (Public Policy Professional Core) worked closely with students of Effective Web Design and Video Production courses (Media and IT Professional Core) to produce three products: 1) an organized cross classroom Wiki, 2) informational videos that report on Kosovo environmental problems from credible sources, and 3) a Drupal based website. The collaborations have led to numerous opportunities for staff, faculty and student professional development. The "Engage Students in Creative Multimedia Content Production" AMICAL sponsored workshop is intended to demonstrate successful models and to help teams of collaborators from partner institutions develop similar multimedia projects.
Student Participation
This workshop is also open to students who have attended courses in their respective universities that use multimedia content production as a form of assessment and wish to accompany their professors and attend the workshop.
Funding
Although this workshop is sponsored by AMICAL there is limited funding to assist colleagues and students who wish to attend. Funding of accommodation and meals for three days in Kosovo is available for only 14 faculty members from AMICAL affiliated institutions. Furthermore, there is accommodation and meals for three days funding for 7 students from AMICAL affiliated institutions who will accompany their respective professors. You may apply for funding by choosing yes under "Requesting funding" below. Applicants for funding will be reviewed and selected on the quality of the application submission by a committee of 4: Dr. Pandeli Glavanis, Prof. Daniel Cosentino, Ms. Ivana Stevanovic and Mr. Ahmad Zorkani.
Please note:
Participants from AMICAL Full and Affiliate member institutions are eligible to apply for funding; those from AMICAL Consortial Partner institutions can attend the workshop free of charge if their application is accepted, but they will need to find their own funding for all expenses, including hotel accommodations. Check the membership status of your institution here.
There is NO funding for travel and visas for any of the participants, ONLY a limited amount for accommodation and meals for three days on the first come first served basis for AMICAL affiliated participants.
Unfortunately, although we welcome participants from non-AMICAL affiliated institutions we are unable to provide any funding at all for such colleagues and students.
Further Particulars and Questions
Please contact one of the coordinators at the e-mails listed below if you wish to make further inquiries. Please note that e-mail communication with the coordinators will NOT be considered as an application to participate or for funding.
Pandeli Glavanis: pandeli@aucegypt.edu
Daniel Cosentino: dcosentino@aukonline.org
Ahmad Zorkani: ahmad.zorkani@aucegypt.edu
Ivana Stevanovic: : istevanovic@aukonline.org