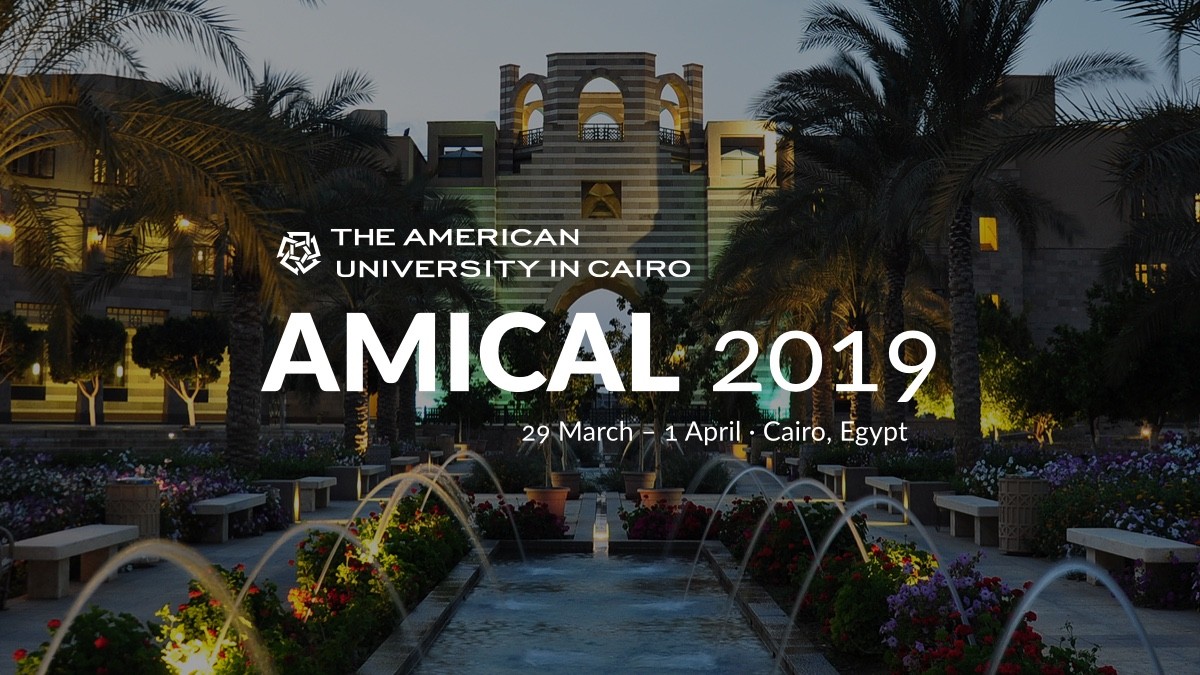 Openness in teaching and research: Broadeing our horizons for the digital future
Registration for AMICAL 2019, the consortium's 16th annual meeting and conference, has officially opened. The Conference will take place 29 March – 1 April at the beautiful campus of the American University in Cairo (AUC), which is marking its centennial.
🎯 What's in the program?
The AMICAL Conference grapples critically with issues relevant to international liberal arts institutions. This year's program focuses on openness in all its expressions – from open access publishing, to open educational resources and practices, to openness as a liberal arts value.

Anita Walz – Open Education, Copyright & Scholarly Communication Librarian at Virginia Tech – and Robin DeRosa – Director of Interdisciplinary Studies at Plymouth State University – will offer keynotes addressing open education from librarian and faculty perspectives, respectively.
Cheryl Hodgkinson-Williams – Associate Professor, Centre for Innovation in Learning and Teaching (CILT), University of Cape Town – will offer two workshops focusing on Open Educational Resources.
As always, the majority of the program is member-contributed. We used a two-round proposal process which allowed the Program Committee to offer more substantial feedback this year, making for stronger proposals, well-aligned with the Conference's theme. Sessions proposed by AMICAL colleagues will address openness but also a variety of other topics, including: information and digital literacies; assessment and transparency; digital pedagogy and scholarship; innovations in libraries, technology, and teaching; and much more.
Eschewing the traditional presentation model, most of the Conference program focuses on dynamic sessions – such as Birds of a Feather discussions, hands-on workshops, and the Community Idea Exchange, which showcases innovative local projects and initiatives.
You may view the tentative schedule and list of speakers for more information about the program.
👩‍🏫 Who should attend?
We encourage the staff and faculty of AMICAL institutions to attend if they are interested in the Conference theme or, more broadly, AMICAL's mission of working together on libraries, technology and learning.
Attendees include a broad cross-section of doers from member institutions, including: librarians (especially library directors and teaching librarians), faculty developers, disciplinary faculty, program chairs and coordinators, instructional technologists and designers, IT directors, and academic leadership.
We enjoy seeing old friends at AMICAL, but we love seeing fresh faces. So share this announcement with your colleagues!
🌟 Financial support
If you're an AMICAL member, review the financial support page on the website to find out if you are eligible.
Hotel room sharing is a requirement for some categories of support, but even if you're not in that category, we strongly encourage you to share a hotel room with an AMICAL colleague. Room sharing supports the sustainability of our annual conferences and allows more people to participate.
🏨 Hotel accommodation
During registration, Conference attendees may use the registration form to book their hotel room. More information about accommodation is available on the site.
🛠️ Full workshops
For the first time, we folded the full workshops we hold during the year into the event itself, in the form of a pre-conference day (29 March):
"Collaboratively designing creative solutions to challenges within AMICAL" will be offered by AUC's Center for Learning and Teaching as a spiritual successor to the event they offered last year on teaching and learning innovation (TALIX).
"Information literacy in practice: Leadership, communication, teaching" will be offered by a cohort of AMICAL members who recently attended ACRL's Immersion Program together and combine their expertise with know-how from that program.
More details about these workshops and the form to apply will be made available next week.
If you wish to attend a full workshop, do not register for the Conference until you have applied for the workshop and been accepted. If you indicate on your Conference registration form that you're attending a March 29 full workshop, but you have not been accepted for the workshop, your registration and any financial support for that day will be considered invalid.
✉️ Clarify your visa requirements
Before registering, check if you need a visa and what the process of acquiring one is for your nationality. Most attendees will need a visa.
If your visa application requires an invitation letter from the organizers, you can request one:
In the registration form
Before registering (for AMICAL members who are applying to a full workshop) by sending a request to amicalconf@amialnet.org with your name exactly as it appears on your passport.
👍 Register by February 10
The deadline for registration is February 10. That's less than a month away, so make sure you register in time.
We say this every year – but it's true. This will be the best AMICAL yet!
Note that the this event is open to AMICAL members and individuals invited by the organizers.
On behalf of the Joint Organizing and Program Committees,
Alex Armstrong, Program & Technology Officer, AMICAL