Venue

Venue and location
The American University of Rome is an urban campus and the compound is composed of 5 nearby buildings. The main campus hosts the administrative and faculty offices, student services, main computer lab, classrooms and laboratories whilst the library is located in the Evans' Hall, a liberty villa of 1920.
The university is located on top of the Janiculum, Rome's highest hill and overlooks the historical center. With its own garden of Roman pines it offers a spectacular view of Rome and the surrounding hills. The campus is near two city parks, Villa Sciarra and Villa Pamphili and historical landmarks.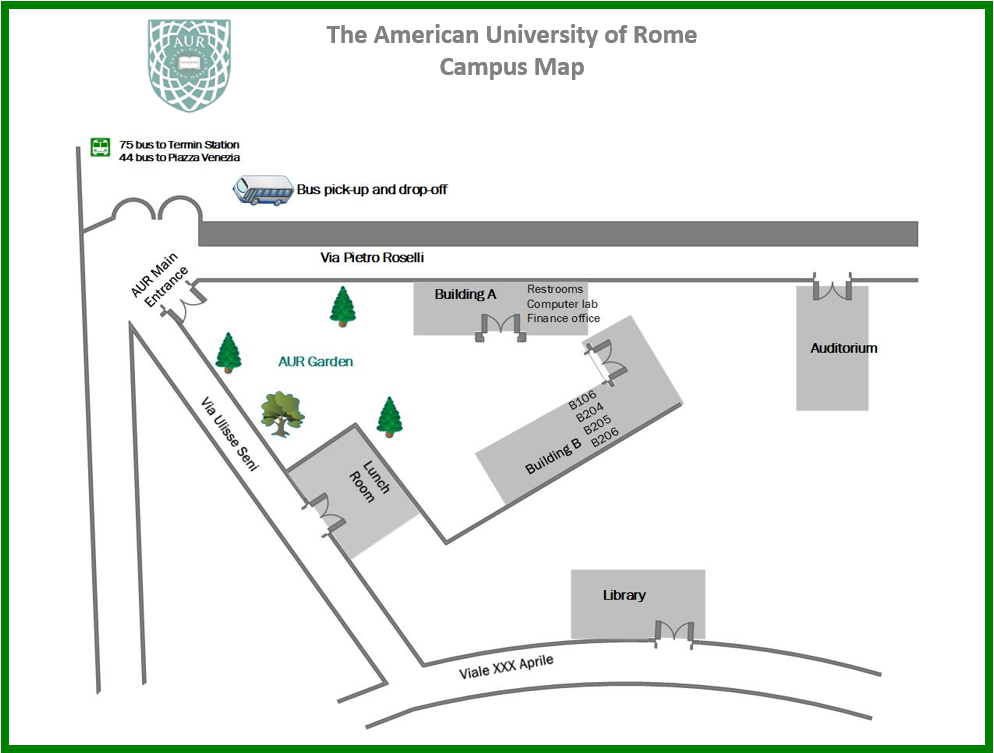 University Address
The American University of Rome
Via Pietro Roselli 2
00153 Rome, Italy
Rome is a main character in the story of AUR
From its inception as the center of the Roman Empire, to the bustling cultural and social mixing pot it is today, Rome's history is long and complex with telling remnants of its story scattered about every place you go. The most fascinating aspect of Rome is its standing as a city where ancient and modern weave in and out of each other; it is hard to determine where one era ends and another one begins. Surrounded by historical landmarks, ages-old artwork, diplomatic and international organizations, the Eternal City is one of the major and most important centers of European political and social happenings and is considered to be one of the most strikingly beautiful cities in the world.
In 2016 Rome will host the Extraordinary Jubilee of Mercy announced by Pope Francis. The city will therefore be busy with Pilgrims and many activities will take place. To find out more about the activities, consult the official Jubilee of Mercy website.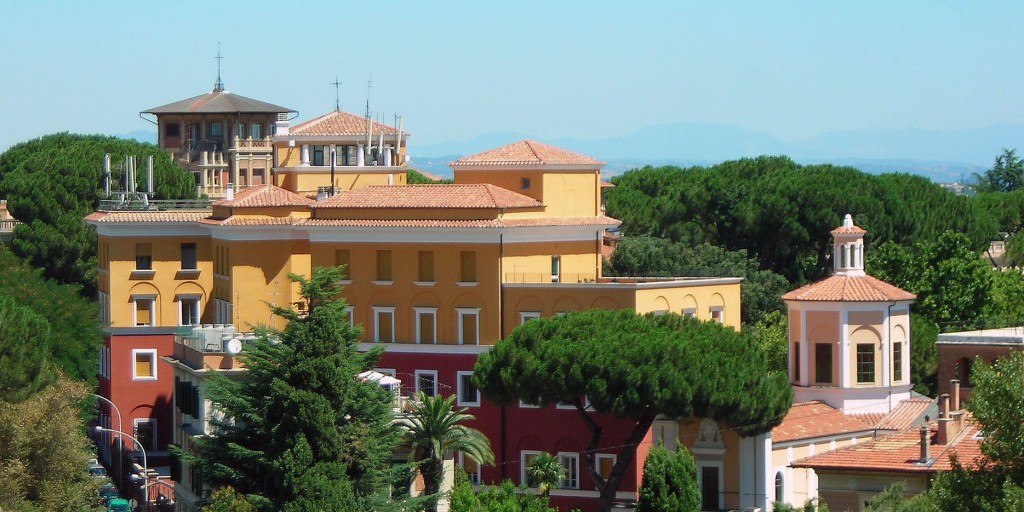 Travel and transport
Rome has two airports, Leonardo da Vinci, commonly referred to as Fiumicino and a smaller airport, Ciampino, which mainly serves charter flights. International flights coming in to Leonardo da Vinci generally arrive at Terminal 3. Like most European airports, passengers are required to go through passport control before picking up luggage. From the baggage claim area, passengers can proceed through customs and exit.
Rome is also serviced by Termini railway station with trains arriving from many Italian and European cities. The main bus company, ATAC, has a comprehensive website and free phone Apps that will help you travel around the city. Rome's metro system is somewhat limited compared to Paris and London but is useful in getting around and avoiding street traffic.
Getting to the hotel from the airports
The Conference hotel (NH Roma Villa Carpegna) is located 27 km from Fiumicino Airport and 19 km from Ciampino Airport. Both airports are serviced by public transport to Termini station, (Fiumicino by train and Ciampino by coach) Consult the airport website for times. From Termini station, you can take metro Line A, get off at the Cipro station and then take the 31 bus. Alternatively, you can catch a taxi (cost from Fiumicino is €48.00 and from Ciampino is €30.00).

Maps
Visa information
Italy is a member state of the European Union and adheres to the Schengen Agreement. Visas are not required by citizens of EU member states and some non EU countries for a short stays, (maximum 3 months). This online questionnaire will help you determine if you need a VISA to enter Italy. Should you require a VISA, please contact your local Italian Consulate.
Should you require an invitation letter from AUR to attend AMICAL 2016, please indicate this when completing the registration form.
Practical information about Italy and Rome
Language and currency
Italian is the official language of Italy though English is also spoken widely. The local currency is the EURO. Participants arriving from Leonardo da Vinci (Fiumicino Airport) will find banks, ATM machines and currency exchange counters located in the Arrivals hall of Terminal 3. Ciampino Airport does not have an ATM in the arrivals hall but does have a currency exchange counter (see airport services for further information).
Electricity
Electricity in Italy is based on the European standard 220-230V AC, 50HZ. Wall outlets can accommodate 3 different types of plugs:
| | | |
| --- | --- | --- |
| European 2-pin | "Schuko" plug | Italian 3-pin |
Time and Weather
The local time zone is GMT+1. The Conference will take place during the Spring season (April to June) which is also high season for Rome and the city will be at its busiest. The climate in Rome during the month of May is usually very pleasant with average temperatures of 22°C, though evening temperatures can drop to around 16°C. Sporadic rain is common so an umbrella is advised.
Further information can be obtained from the following websites:
Things to do
Rome offers an array of attractions and sites for all tastes. Below are some websites with useful information on what to see.
If you are looking to book a tour in Rome, we recommend the following guides: