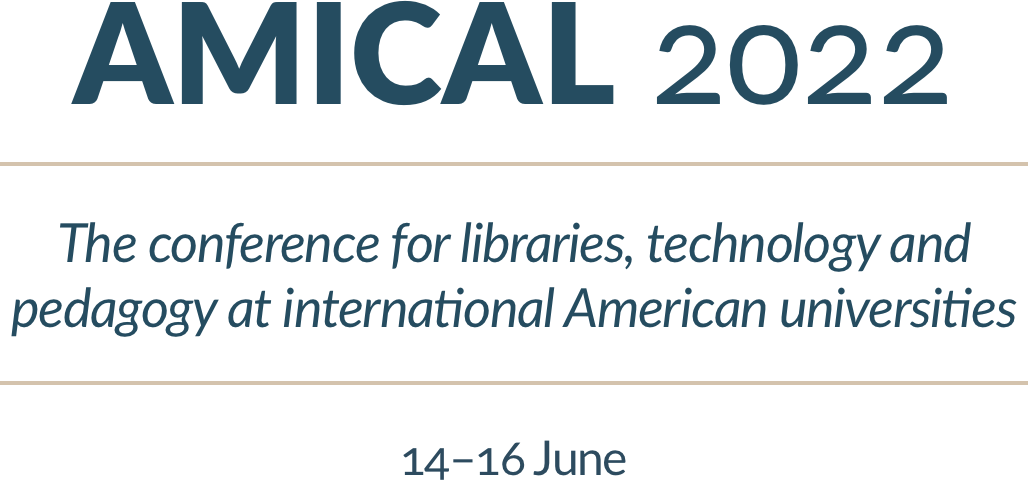 AMICAL 2022, the consortium's 19th annual conference, will be held online 14–16 June.
The main program will run June 14–16, between 10:00 and 16:00 Paris time, and will offer insightful presentations by, and lively discussions with, AMICAL colleagues and invited experts. Informal networking and socializing sessions may run before and after the main program.
The Conference will be especially relevant to:
Librarians, especially teaching librarians and library directors, as well as other library staff
Faculty developers and coordinators of centers for learning & teaching
Disciplinary faculty interested in innovative pedagogy and collaboration with librarians and/or technologists
Instructional designers and academic technologists
Invited speakers
Three invited speakers will each deliver a keynote, as well as a follow-up breakout session on timely topics:
Independent scholar

Director of Digital Humanities, Professor of English • Michigan State University

Interim Dean, University Libraries • University of Massachusetts Amherst
Community Idea Exchange sessions
For sessions contributed by AMICAL members we will be using the "Community Idea Exchange" format, which combines brief presentations with active audience participation.
AMICAL members will offer more than 25 sessions, showcasing their recent work, sharing their insights, and engaging with their peers. Sessions will address both the COVID-19 era and what comes after.
The range of topics includes:
Collaborations between librarians, faculty and technologists
Digital and innovative pedagogy
Information, media and digital literacies
Hybrid and blended learning
Library and learning spaces
Digital projects, collections and archives
Register for the Conference
All staff and faculty from AMICAL member institutions interested in libraries, technology and pedagogy are welcome to attend the conference.
There is no registration fee — event costs will be covered by AMICAL.
Register now to ensure you receive all upcoming announcements about the Conference: