July brought to a close the third and final year of the Andrew W. Mellon Foundation's $800,000 2015-2018 grant to the American University of Paris on behalf of AMICAL: "Promoting AMICAL Library Leadership, Faculty Collaboration and Digital Initiatives to Strengthen Liberal Arts Abroad." AMICAL's Administration, its committees and its members have been hard at work this past year, advancing the goals in that grant, and pushing forward other projects that raise the quality of library, technology and curricular resources across our member institutions.

In this first news item for the new academic year, I'd like to highlight some of your accomplishments, as a consortium, over the past year. We'll be sharing news about the upcoming year shortly, but I think it's important to look at past successes as we think about how to direct our energies as a group going forward. Here's what I'd like to highlight in particular:
Consortial discounts on library resources
AMICAL cohort to the Digital Humanities Summer Institute (DHSI)
Onsite event: Teaching and Learning Innovation Exchange (TALIX)
Online events: info lit, digital pedagogy and digital humanities
Small Grants
AMICAL 2018: Our annual Conference
Recognizing exceptional consortial work: Elisabetta Morani
New member institutions
Increasing self-sustainability
Looking forward: 2018-2021
I mention below some of the colleagues who have been moving these initiatives, but there are many I didn't have space to list. Thanks to all members who have been participating in these initiatives, since their value comes from the interest and direction you give them.
---
Consortial discounts on library resources
Elisabetta Morani (John Cabot University) and other members of AMICAL's E-Resources Committee worked this past year to expand the number and value of AMICAL's discounts on databases and other licensed resources. According to figures gathered for 2017, members benefited last year from an average of $13,000/institution in total discounts through AMICAL, with a maximum of $72,000/institution.
Our E-Resources Committee has also been leading initiatives for member libraries to experiment with new models of access to scholarly resources. In addition to our ongoing pilot with JSTOR to provide demand-driven selection of ebooks, AMICAL members participated in Knowledge Unlatched's successful 2017 drive to turn 300 HSS academic titles and 15 journals into open access titles.
AMICAL continues to work with OCLC as well to bring latest-generation, cooperative library systems to members at discounted prices.
AMICAL cohort to the Digital Humanities Summer Institute (DHSI)
AMICAL launched this year an initiative intended to strengthen members' collective ability to engage in digital humanities teaching and scholarship. The AMICAL cohort gathered institution-based teams and coordinated their participation in the June 2018 Digital Humanities Summer Institute at the University of Victoria. The cohort included 21 faculty, librarians, instructional technologists and deans with local curriculum-related DH projects at the following institutions: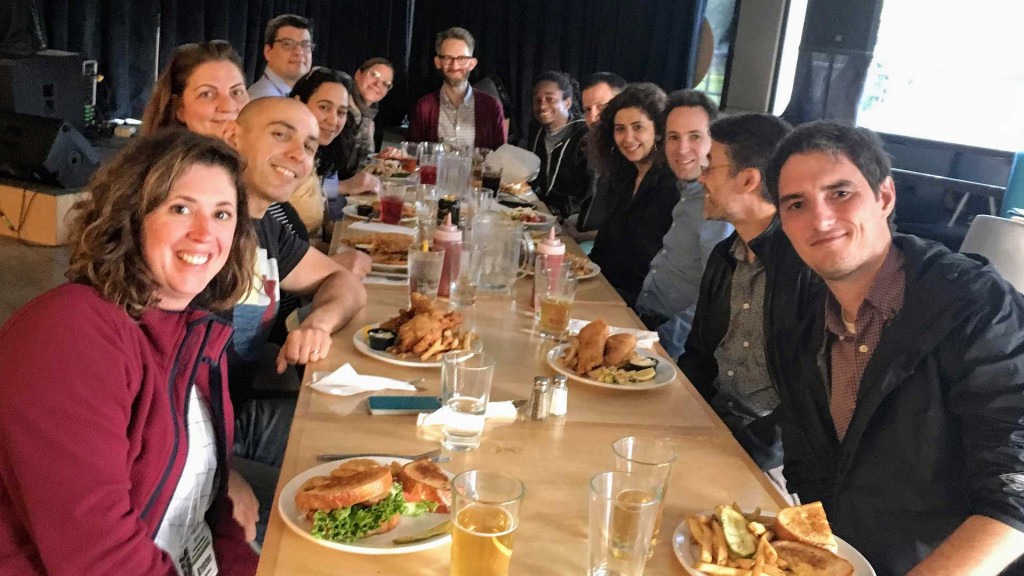 American College of Greece
American College of Thessaloniki
American University of Beirut
American University in Cairo
American University of Central Asia
American University of Paris
AMICAL arranged expert consultation and peer feedback for the cohort, helping them prepare for effective participation at DHSI. Two webinars were organized, on mapping in the digital liberal arts and on digital project-course integration, with presentations (open to all members) followed by small-group consultations (just for the DHSI cohort). An online group space was created for the cohort on AMICAL Connect, where cohort members shared their projects and challenges they're facing with them.
AMICAL provided most of the cohort's essential funding to attend this 2-week event, recognized throughout the DH community as one of the best sources for learning about DH at any level. As a DHSI partner organization, AMICAL was able to secure discounted rates for all member participants.
At the event, cohort members participated in 1-2 weeks of intensive workshops on a range of both theoretical and practical topics related to their projects. At several points they met face to face as a cohort as well, the last of which included a a well-received workshop by Hoda Mostafa (American University in Cairo) on design thinking in the context of the cohort's digital projects. As they left Victoria, the cohort was asked to revise their project plans in light of DHSI and their cohort participation, using a digital project plan template developed by Alex Armstrong (AMICAL).
As part of our follow-up planning, we ran a survey of all AMICAL members to gather suggestions for future DH training needs, and we're currently using that in planning upcoming webinars and other events. After DHSI, the cohort will now form part of the core of a growing community of AMICAL colleagues interested in innovative digital approaches to humanities teaching and research. More on all of this in a coming newsletter!
Many thanks to Alex, and to Najla Jarkas (American University of Beirut), for their leading roles in organizing the DHSI cohort initiative
Onsite event: Teaching and Learning Innovation Exchange (TALIX)
In February, the American University in Cairo (AUC) hosted the first edition of TALIX, the Teaching and Learning Innovation Exchange for AMICAL members, as part of its own anniversary event marking 15 years of its Center for Learning and Teaching (CLT). The primary goal of TALIX was to connect AMICAL colleagues and help them grow ideas for projects related to innovation in teaching and learning. The event brought together 21 visiting AMICAL colleagues and dozens of AUC colleagues, including faculty developers, disciplinary faculty, instructional technologists and librarians.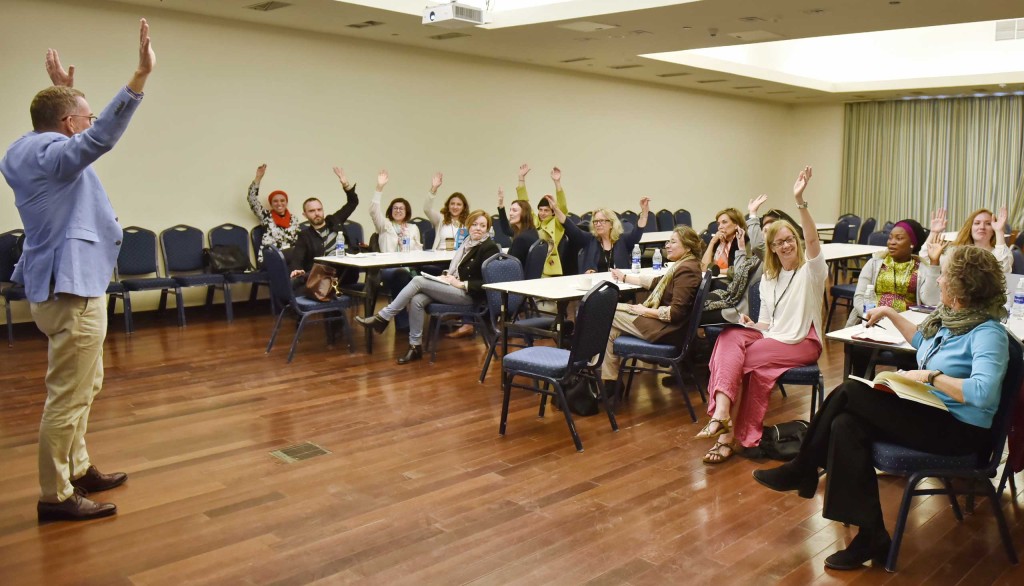 One goal was to inspire and assist members' work on the development of centers for teaching and learning. AUC's successful Center for Learning & Teaching provided an onsite source of expertise and consultation during the event. The event also led to the creation of a vibrant interest group of faculty development center coordinators across AMICAL, and colleagues are already benefiting there from discussion, feedback on plans, and ideas for future collaboration.

A number of other collaborative projects were proposed at TALIX, including an inventory of institutional statements & human resources supporting digital literacies at AMICAL institutions, currently under development.
Special thanks to Hoda Mostafa (now Director at AUC's CLT), Maha Bali and Nadine Aboulmagd, who played leading roles in organizing TALIX, and to Aziza Ellozy (Founding Director of CLT). In addition to showcasing AUC's CLT for colleagues at TALIX, Aziza has generously shared with AMICAL members on many other occasions her experience, wisdom and irrepressible enthusiasm for improving students' learning experiences. We wish her luck in her new role as AUC's Associate Provost for Transformative Learning and Teaching.
Online events: info lit, digital pedagogy and digital humanities
AMICAL organized 13 scheduled online events in the past year and supported many other informal online member meetings. The events were largely organized by member groups, and among the most active of those were AMICAL's information literacy librarians.
Highlights of AMICAL's information literacy initiatives include:
Virtual Forum online discussions of recent information literacy topics, and follow-up meetings with librarian and faculty participants from the 2017 Co-Design information literacy workshop (coordinated by Michael Stoepel of the American University of Paris)
Information Literacy Journal Club events: online, real-time events encouraging librarians to read the current professional literature and discuss its implications for their work at AMICAL institutions (coordinated by Kathryn Vanderboll and Vanessa Lawrence, both of American University in Cairo)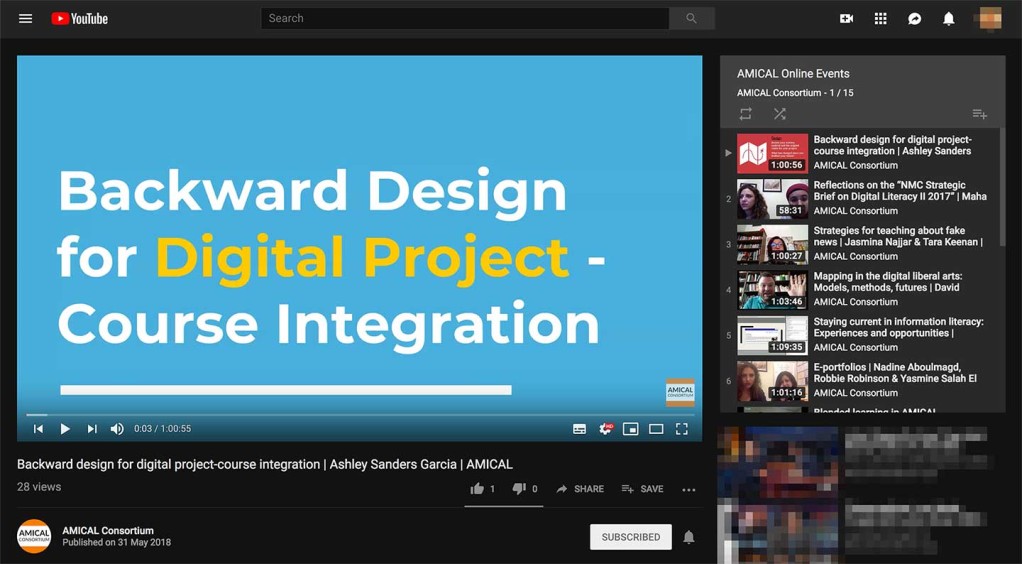 Other member groups have organized events on current topics in digital pedagogy, digital literacies and digital humanities, with recent topics including:
Backward design for digital project-course integration
The intersections of digital pedagogy and information literacy
Strategies for teaching about fake news
Mapping in the digital liberal arts
Faculty outreach for information literacy librarians
E-portfolios
Small Grants
Recognizing that we needed to give more attention to the planning, monitoring and support of our Small Grants-funded projects, we revised our Small Grant guidelines last year in ways that strengthen applicants' commitments to clear timelines and reporting of milestones, ensure that the necessary expertise for projects' success is in place or being developed, and make staff exchanges more effective by establishing clearer host-institution support and planning for activities and outcomes.
Our Small Grants program awards up to €4,000 for professional development, staff exchanges and local projects that relate to AMICAL's mission. We awarded 18 grants in support of:
12 professional development opportunities
5 local projects
1 staff exchange between AMICAL members
Highlights of last year's grants include our support for:
The attendance of a cohort of six librarians from five institutions to ACRL's Information Literacy Immersion Program.
The leadership development of mid-career librarians at three institutions (Harvard Leadership Institute for Academic Librarians; Online Certificate in Library Management; engaging a library organizational change consultant).
Travel support to conferences where staff had been accepted as speakers.
A team from American University of Central Asia to Open Education Global Conference, to support their institutional shift to using OER.
Projects involving the collection, transcription/description and analysis of oral histories or narratives at three member institutions (American College of Thessaloniki, American University in Cairo, American University of Central Asia).
One Small Grant funded the participation of Rayane Fayed and Rana Al Ghazzi in an EDUCAUSE workshop on developing mentoring programs for technology professionals. Rayane and Rana then developed a proposal for a more general mentoring program for AMICAL members; this year we'll be drawing on their work and consulting with them as we make plans for supporting mentoring across our consortium.
All Small Grant applications were reviewed by AMICAL's Grant Review Committee, whose members are the officers of our Coordinating Committee. In addition to myself (Jeff Gima, American University of Paris), this includes:
Nikolina Ivanova-Bell (American University in Bulgaria)
Evi Tramantza (American College of Thessaloniki)
Fatme Charafeddine (American University of Beirut)
Maha Bali (American University in Cairo)
This group reviewed, discussed, and responded to dozens of applications over the past year. They work with criteria that they helped develop, and that are a bit complex, but intended to ensure equitable support and fruitful outcomes. It's time consuming, but I think their efforts have contributed to the increasing value and impact of the outcomes of our Small Grants program.

AMICAL 2018: Our annual Conference
In May, the American University of Central Asia (AUCA) hosted our most recent AMICAL Conference. The AMICAL Conference brings together staff and faculty who are passionate about improving the learning experience of their students through innovative and effective use of libraries, information and technology. This year there were over 100 attendees from 24 member institutions, including:
47% from libraries & archives
34% faculty or faculty developers
14% instructional designers/technologists or IT managers/staff
5% administrators & other roles
The conference theme was "International liberal arts in a digital era: reimagining a shared vision for libraries, technology and learning." The program was built from member proposals and addressed topics such as: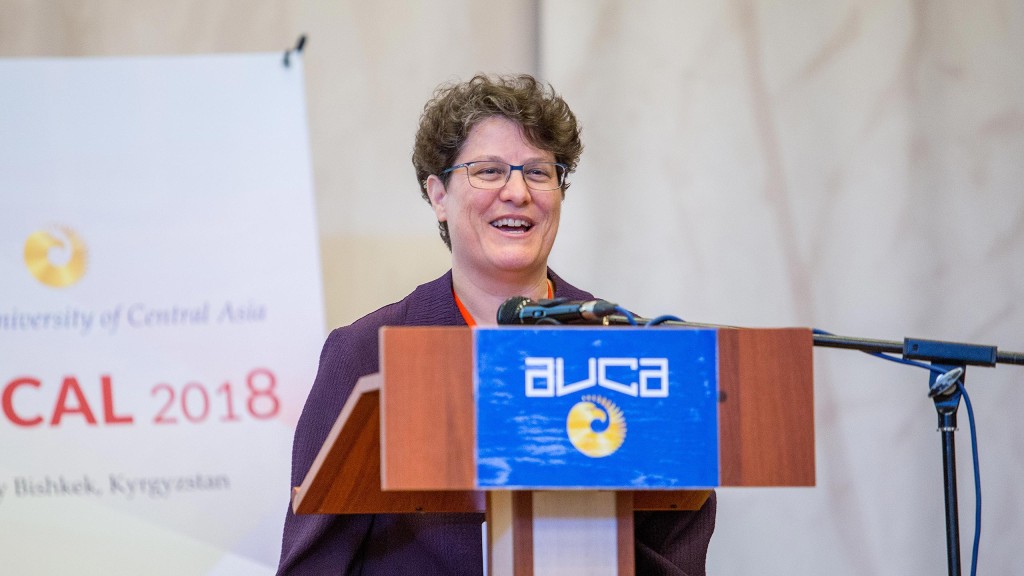 Information & digital literacies
Rethinking teaching and learning
Reimagining libraries
Strategic use and development of technology in higher ed
Professional/leadership development in higher ed
Growing the AMICAL collaboration network
The event blended the host institution's strengths and character with expertise from both consortial and international colleagues. Here are some highlights:
Keynotes on digital literacies from Gina Siesing (CIO & Director of Libraries, Bryn Mawr College) and John Traxler (Professor of Digital Learning, University of Wolverhampton), and follow-up sessions with the speakers
A 1.5 day member-led workshop on low-barrier open source tools for digital humanities pedagogy and scholarship
Member-led workshops on: Resource sharing in the digital age; Research data management; Frameworks for building teaching expertise; Creating narrative non-fiction podcasts in the classroom
Panels on: Librarian-faculty collaborations using the ACRL information literacy framework in course design; Learning space design projects at AMICAL institutions
35 Community Idea Exchange presentations presented over 3 sessions, sharing local innovations, lessons learned from challenges and pilot projects, and ideas proposed for future consortial collaborations
Local culture infused the event in myriad, memorable ways, from Henry Myerberg's sources of inspiration for AUCA's architecture, to AUCA students' talent showcase, to the lunchtime yurt-building demonstration with a Kyrgyz storyteller performing the Epic of Manas.
AMICAL 2018 will not be soon forgotten, thanks in particular to lead AUCA organizers Anguelina Popova and Ekaterina Kombarova. The event was remarkable for our invited speakers (see Gina Siesing's blog post about it) as well as for attendees, one of whom noted this:
"The demographic of institutions and representatives is unlike anything I have seen at a conference before. This rich blend of disciplines and cultural contexts generated some fantastic, if sometimes difficult, conversations. The interdisciplinary character of the conference and sessions led to me coming away from this conference with more ideas and plans for the immediate future than any other conference or workshop I have ever attended."

Recognizing exceptional consortial work: Elisabetta Morani
At our recent conference, AMICAL's Coordinating Committee officers bestowed the consortium's first Award for Outstanding Volunteer Service to Elisabetta Morani (JCU) for exceptional and sustained efforts she has made in support of consortial goals. She was recognized in particular for her foundational work as Chair of the E-Resources Committee, and her longstanding commitment to building a consortium that combines innovation with responsiveness to members' current needs. Brava Elisabetta!
New member institutions
I'm pleased to announce two new institutions that were approved as members by AMICAL's Coordinating Committee this Spring: Effat University (Affiliate Member) and Habib University (Network Member). This brings us to 29 member institutions, representing 22 different countries! It was a pleasure to have colleagues from Effat and Habib with us at AMICAL 201, and we're looking forward to their participation in future events and initiatives.
Increasing self-sustainability
Though AMICAL has benefited from critical support from the Mellon Foundation, it's important to note that last year member institutions raised their own financial contributions to AMICAL's operating costs to a total of €45,000. With this financial participation, our institutions help sustain consortial programs valued by members. They also demonstrate, importantly, institutions' commitment to the grant's goals, institutions' recognition of the value of AMICAL membership, and institutions' confidence in the future value of our collaborative efforts.
Plans for 2018-2021
We announced last January a new $1.1 million, 3-year grant to AU Paris for "Building Leadership and Capacity for Digital Liberal Arts across AMICAL", and we're excited to be embarking on this and other projects this fall. The linked blog post provides an overview of the new grant, and in the next few weeks we'll be sharing more news and plans for the current year. Join our community to make sure you get the news!
Authors
Media credits

AMICAL 2018 photos by Ruziali Ruzimatov / AMICAL / CC BY