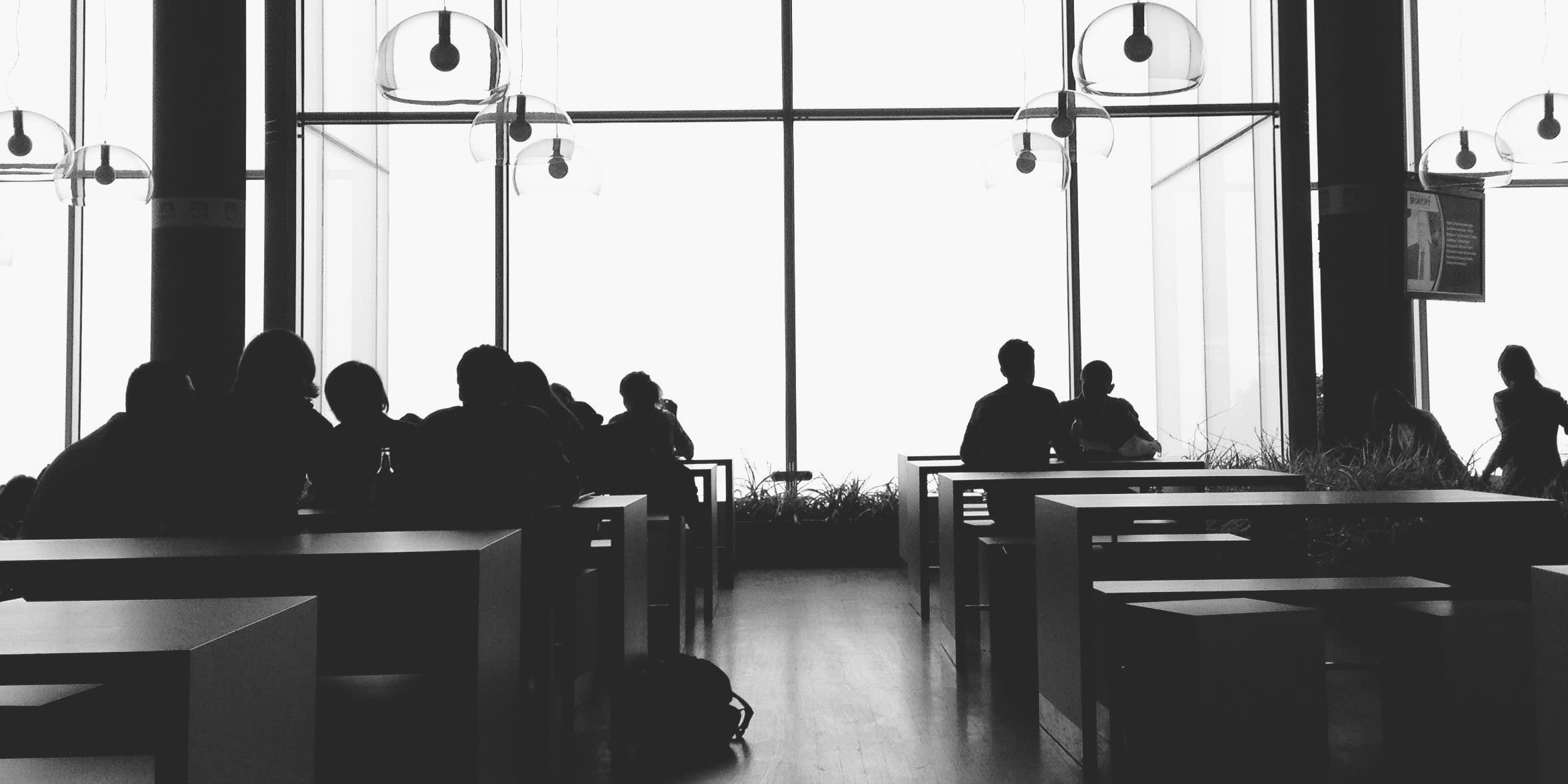 We're happy to announce two updates to the AMICAL website. We have migrated the AMICAL 2015 profiles over to our site and recently launched and a system to manage AMICAL events.
AMICAL profiles
For AMICAL 2015 we created profiles for all attendees. We had done this for the previous two conferences as well. The profiles allowed attendees to put faces to names and helped them connect with each other long after the conferences were over.
But this year our plan was to migrate the 2015 profiles over to the main AMICAL site, where they will serve as one of the components of a new AMICAL collaboration initiative.
Although it's early days yet, these profiles already provide useful information for several AMICAL members. We plan to expand their functionality to tie-in with AMICAL initiatives as well as to facilitate cross-institutional collaboration.
The profiles currently include basic biographical information, but they are now fully integrated with the website. So as we expand the AMICAL site, more functionality will be added.
It took us a little longer than I thought, but as of today the profiles have all been migrated and are now available on the AMICAL site.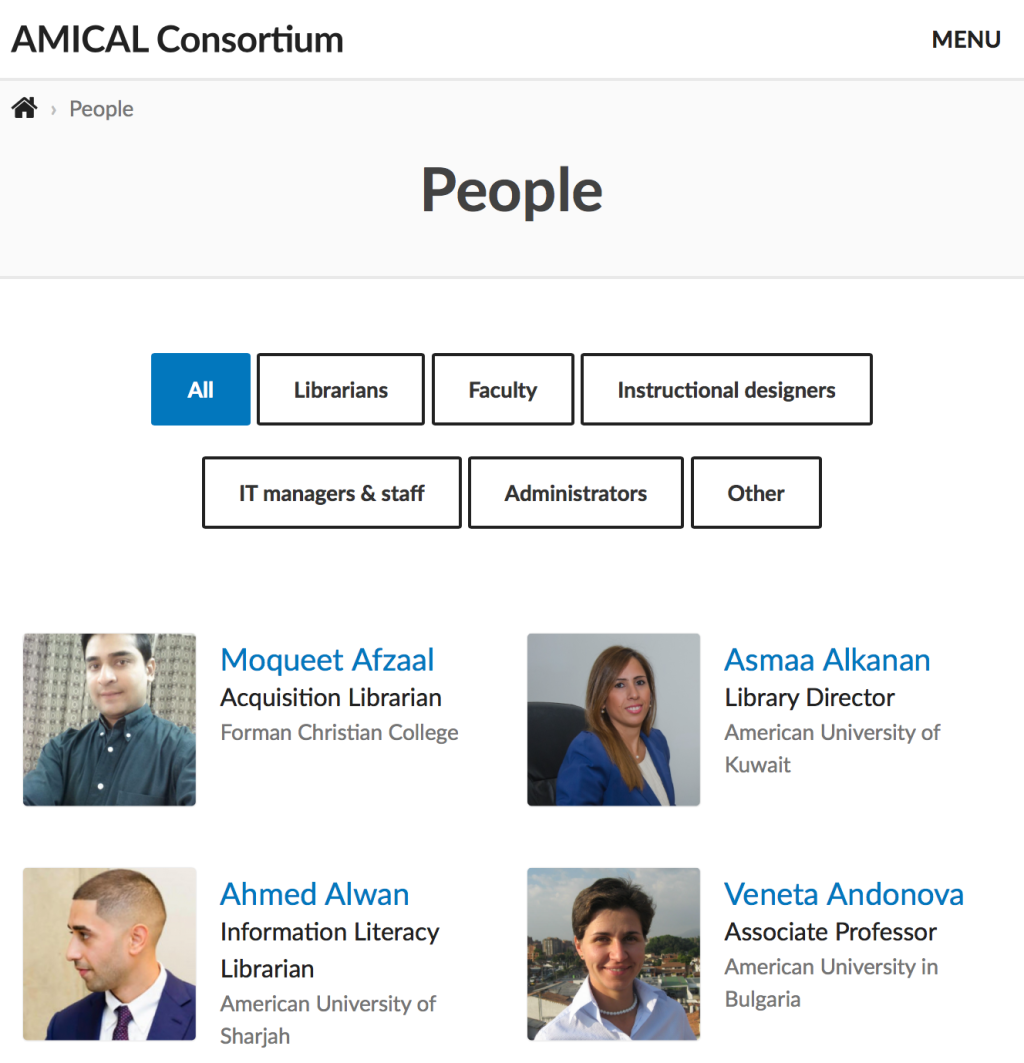 If you attended the AMICAL 2015 conference and are an AMICAL member, then your profile will be listed above.
See something you'd like to change on you profile? Maybe to correct some information or add a better photo? Just log in to your AMICAL account.
If you already created a username and password on the AMICAL 2015 site, you can now use those to log in to the AMICAL site. More in-depth details were emailed out to all account holders earlier today.
If you're an AMICAL member but don't have an profile/account, I encourage you to create one. Just fill in this form and I'll set you up. (The process is not automatic, because we have to verify that requests are coming from AMICAL members.)
Having a profile will allow other AMICAL members to connect with you. A common question we field over at AMICAL HQ is, "Who is like me at other institutions?"
It turns out that it's helpful to find out how they do things at other institutions, but it's hard to know who to ask. The AMICAL profiles can help answer such questions. We hope to make them even more useful and easier to use as time goes on.
Privacy policy
Since the AMICAL profiles are public, I wanted to take a moment and bring up the topic of privacy.
Earlier this fall we put together a privacy policy that goes into detail about what kind of information we gather across all our platforms, as well as what we do with it. We've been linking to this policy from the emails we send to members, but I wanted to highlight it here as well.
Although it's not very exciting, we did try to make it simple to read. Have a look and let us know if you have any concerns about it.
AMICAL events
Last week we launched a system for displaying AMICAL events on the website.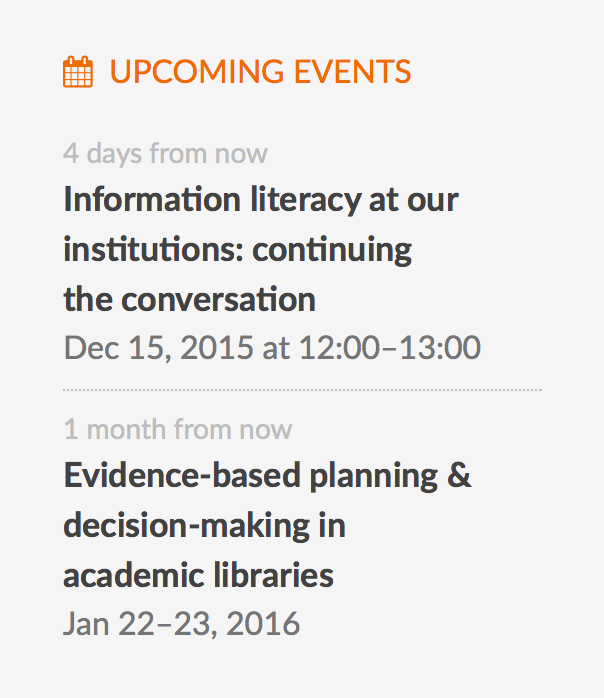 This will be the go-to place to find out about events that AMICAL is organising or sponsoring, including all upcoming webinars, workshops and our annual conference. Previously this information was only available in bits-and-pieces across AMICALconnect and emails that we sent out. No more!

The event system integrates with the profiles, so it will be possible to see the events that an AMICAL members has attended. We haven't populated the system with older events yet, but plan to do so.
We will also be listing external events where AMICAL has significant participation, providing connections with global events around topics of interest to our programs areas.
---
That's all for now. Going forward we will keep uploading content from the old website and past activities, but we also look forward to next year's events, program initiatives, as well as updates to the website and our other tools.