The AMICAL Consortium, including its staff and the many colleagues who form the network of peers spanning our 28 member institutions, mourn the loss of our colleague Elisabetta Morani, who passed away last Friday, 27 November. Elisabetta was Head Librarian at John Cabot University, an AMICAL member institution.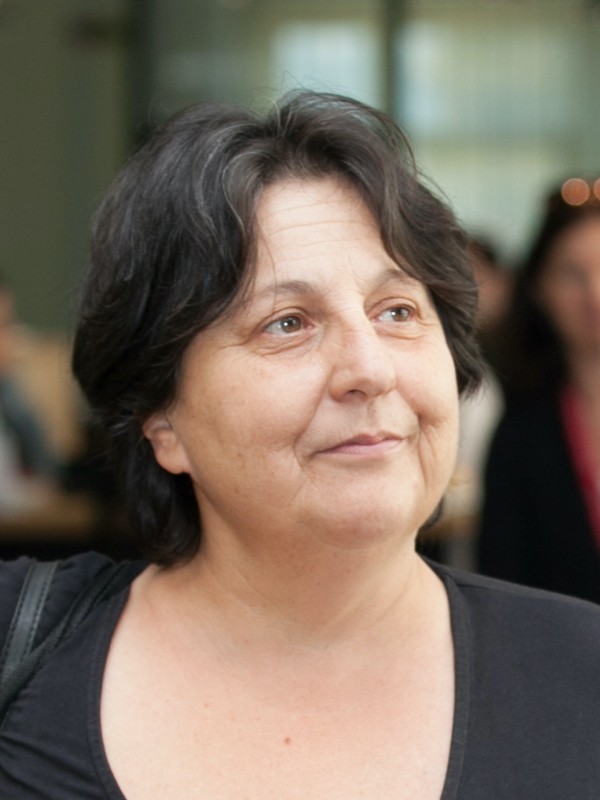 Elisabetta was a central figure in the AMICAL Consortium on many levels.
Present and highly engaged at AMICAL's first meeting in Paris in 2004, and at nearly every annual meeting of the consortium since, Elisabetta helped to give both shape and life to our organization. Among the first to chair AMICAL's Coordinating Committee as the consortium began developing basic structures as an organization, she was someone equally at ease helping us explore innovative cloud-based library systems and helping us think about meaningful library partnerships with faculty. Elisabetta helped us to see beyond the walls of our libraries, and beyond the walls of our institutions, while always keeping our vision grounded in the realities of what we actually might be able to accomplish, and of what actually may matter to our institutions, to our colleagues, and to our students.
In giving her AMICAL's 2018 "Award for Outstanding Volunteer Service by an AMICAL Colleague", we recognized "in particular her foundational work as Chair of the E-Resources Committee, and her longstanding commitment to building a consortium that combines innovation with responsiveness to members' current needs." With her work with the E-Resources Committee on consortial purchasing, she undeniably helped the resources and budgets of a wide swath of AMICAL members. She also organized several key professional development opportunities for members, hosting AMICAL's 2013 Annual Conference and organizing numerous workshops and other initiatives.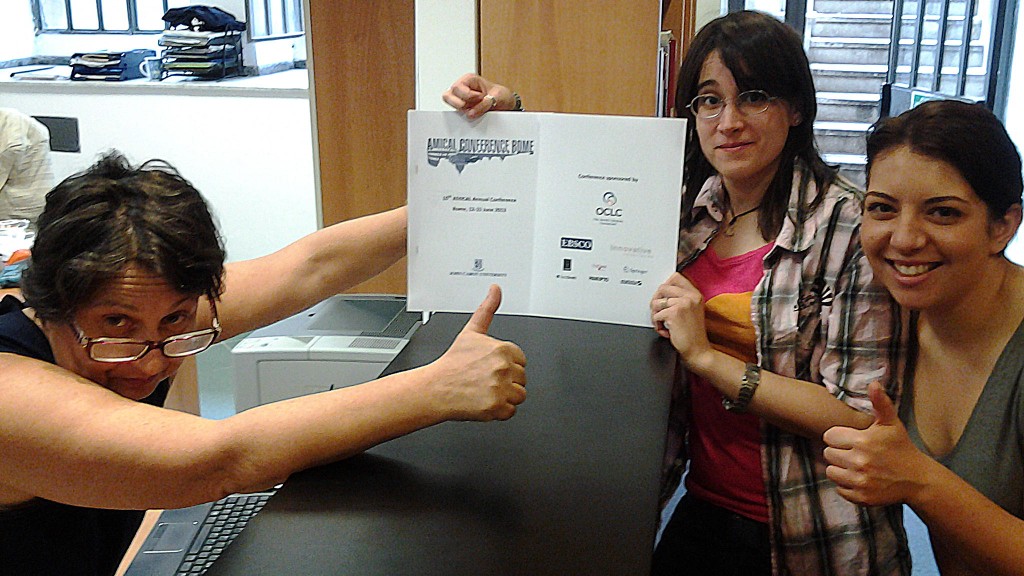 Elisabetta, however, did so much more than that for our group. She had a formidable mix of intelligence, passion, and wisdom, and as the many messages that have been shared about her among colleagues over the past few days attest, her friendship and collegiality had an impact on peers across the consortium that was, quite impressively, as broad as it was deep. It's difficult in fact to imagine AMICAL without her, she was such a visible, constructively critical, friendly, enthused, passionate, engaging and generous colleague, someone who so often and so naturally shifted her thinking beyond her own interests, beyond the interests of just her own institution, to think about the interests of others across the consortium.
Elisabetta helped AMICAL feel like a family - and she was very much at the center of that family, loved dearly by her colleagues. Our sincerest condolences go out to her colleagues at John Cabot University, and above all to Elisabetta's family and loved ones. She will be missed terribly by us all.
In warm remembrance,
AMICAL's Administration and Coordinating Committee, on behalf of colleagues from our 28 member institutions
AMICAL Administration:
Jeff Gima (American University of Paris), AMICAL Director
Alex Armstrong, AMICAL Program & Technology Officer
Lily Servel (American University of Paris), AMICAL E-Resources Technical Coordinator
AMICAL Coordinating Committee Officers:
Evi Tramantza (American College of Thessaloniki), Chair
Maha Bali (American University in Cairo), Vice-Chair
Jyldyz Bekbalaeva (American University of Central Asia), Member-at-Large
Omar Farhoud (Lebanese American University), Secretary
AMICAL Coordinating Committee Members:
Asma Al-Kanan (American University of Kuwait), Leadership & Assessment Committee Chair
Najla Jarkas (American University of Beirut), Digital Liberal Arts Programs Committee Chair
Michael Stoepel (American University of Paris), Information Literacy Initiatives Chair
Note: AMICAL members can find on AMICAL Connect several ways to share their own thoughts and memories of Elisabetta.